We had an amazing Launch Party for the premier of Rethinking Rest!
Over 50 people showed up at the IKE Box Cafe in Salem, OR.

I signed books, read excerpts, and told stories about how it all came together.
Rethinking Rest is available
on Amazon…
or wherever you buy your books!
What is # W M P T B A T T D?
It's the one question everyone must ask in their quest for rest.
"What's My Place To Be And Thing To Do?"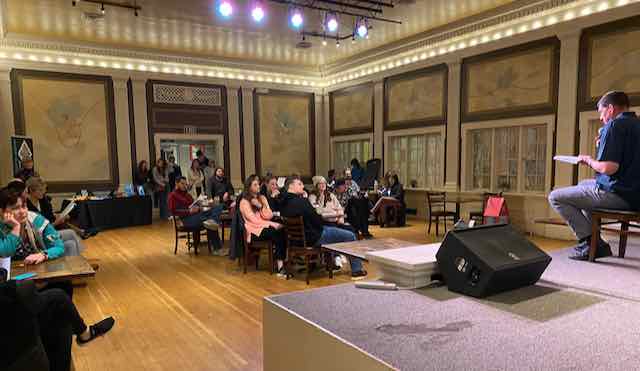 ---
Welcome… I'm Gregory Hall the host of the Rethinking Scripture Podcast and its related website RethinkingScripture.com.
Rethinking Rest is the first "Rethinking Scripture Project." I've discovered that biblical rest is so much more than a one-day-a-week ritual. I'll even venture to say… it's not at all whatyou think it is. Rest is a fully-developed theology that begins in Genesis and it spans the entire biblical text.
I invite you to venture into the pages of Scripture with me. We will discover how your "place to be" and "thing to do" is the key to Christ's offer of rest. Here's the irony – we find rest while in pursuit of the specific work we were created to do.
This site includes a seven-week small-group study on biblical rest. Including Bible lessons, video teaching, a sermon on rest, and some blog posts also on topic.
---
Listen to an episode where I discuss this project in a little more detail.

Stream through your favorite streaming service.
---
Rethinking Rest Study Links
---
Latest Blog Posts
How Is the Sabbath Misunderstood?

The observance of the Sabbath as a day of rest and worship, has a long and complex history in America. The Puritans who settled in New England in the 1600s were known for their strict observance of the Sabbath, and laws were enacted to enforce Sabbath-keeping. During the colonial period, the dominant form of Christianity …

Continue reading

Why Should We Look Beyond the Sabbath's Shadow?

I spent most of 2016… and some of 2017… completing the "Major Project" for my Doctor of Ministry degree. Attached is a copy of my doctoral work, Beyond the Sabbath's Shadow: A Biblical Understanding and Application of Godly Rest. If you were hoping for more detail than the Rethinking Rest material affords, you might find that …

Continue reading

How Culture Confuses the Puzzle of the Sabbath

Let me guess. You're tired. You've got low energy. Your motivation is not what it used to be… and before you go to the doctor and get a pill to fix it you thought you'd read a little…

Continue reading
---
A practical sermon on Sabbath rest!
---